The Expanse S03 ITA ENG 1080p BluRay x264-Morpheus
Seeders:
20
Leechers:
21
Completed:
122
Age: 4 days Visits: 7 Category: TV Size: 38.9 GB
Posted by: ppb1 Comments: Read Comments
Info Hash:
27E21A7B9C60D338880A283C3F37376BE5BF407C
---
Torrent Description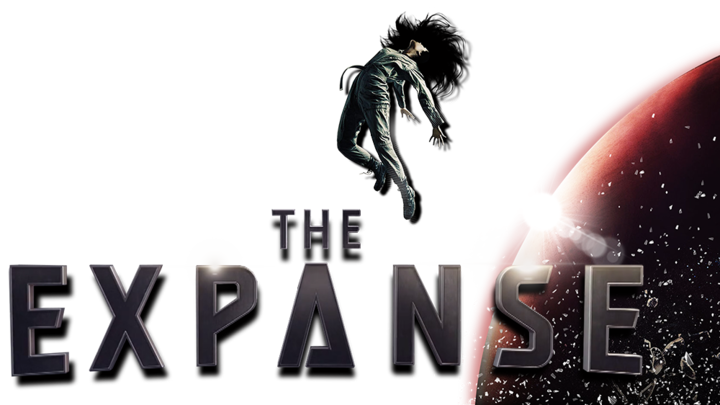 STAGIONE 3
BDMUX 1080p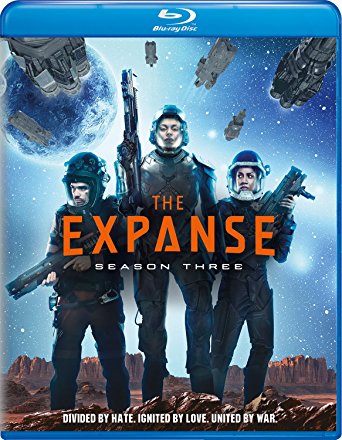 .: Dati Serie :.

Nazione : Stati Uniti d'America
Anno : 2018
Genere : drammatico, fantascienza, giallo
Stagione : 3
Episodi : 13
Durata : 45 min circa
Lingua : ITA - ENG
Ideatore : Mark Fergus, Hawk Ostby
Soggetto : James S. A. Corey (romanzi)
Interpreti e personaggi
• Thomas Jane: Josephus Miller
• Steven Strait: James Holden
• Cas Anvar: Alex Kamal
• Dominique Tipper: Naomi Nagata
• Wes Chatham: Amos Burton
• Paulo Costanzo: Shed Garvey
• Florence Faivre: Julie Mao
• Shawn Doyle: Sadavir Errinwright
• Shohreh Aghdashloo: Chrisjen Avasarala
• Frankie Adams: Bobbie Draper

A police detective in the asteroid belt, the first officer of an interplanetary ice freighter and an earth-bound United Nations executive slowly discover a vast conspiracy that threatens the Earth's rebellious colony on the asteroid belt.

La terza stagione si apre con l'esacerbarsi della guerra tra la Terra e Marte nel sistema solare mentre la terrificante fase successiva dell'evoluzione della Protomolecola minaccia l'esistenza dell'umanità intera.

[center].: Screenshot :.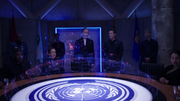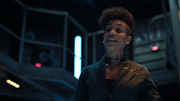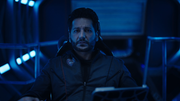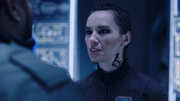 .: Caratteristiche Tecniche :.

[spoiler]

Info sul file

Nome The.Expanse.3x01.Lottare.o.fuggire.ITA.ENG.1080p.BluRay.
x264-Morpheus.mkv
Data Fri, 08 Feb 2019 09:43:09 +0100
Dimensione 3,273,556,939 bytes (3121.907176 MiB)

Magic

Tipo file data

Info generiche

Durata 00:43:36 (2616.288 s)
Contenitore matroska
Production date Fri, 08 Feb 2019 09:41:24 +0100
Totale tracce 6
Traccia n. 1 video (V_MPEG4/ISO/AVC) {und}
Traccia n. 2 audio (A_AC3) [ITA] {ita}
Traccia n. 3 audio (A_AC3) [ENG] {eng}
Traccia n. 4 subtitle (S_TEXT/UTF8) [Forced] {ita}
Traccia n. 5 subtitle (S_TEXT/UTF8) {ita}
Traccia n. 6 subtitle (S_VOBSUB) {eng}
Muxing library libebml v1.3.0 + libmatroska v1.4.1
Writing application mkvmerge v7.1.0 ('Good Love') 32bit built on Jul 27 2014 12:59:18

Dati rilevanti

Risoluzione 1920 x 1080
Larghezza multipla di 32
Altezza multipla di 8
DRF medio 16.728263
Deviazione standard 3.059229
Media pesata dev. std. 3.000583

Traccia video

Codec ID V_MPEG4/ISO/AVC
Risoluzione 1920 x 1080
Frame aspect ratio 16:9 = 1.777778
Pixel aspect ratio 1:1 = 1
Display aspect ratio 16:9 = 1.777778
Framerate 23.976024 fps
Dimensione stream 3,019,365,605 bytes (2879.491429 MiB)
Durata 00:43:36 (2616.196896 s)
Bitrate (bs) 9232.839042 kbps
Qf 0.185709

Traccia audio nr. 1

Codec ID A_AC3
Freq. campionamento 48000 Hz
Canali 2
Dimensione stream 125,581,824 bytes (119.76416 MiB)
Tipo di bitstream (bs) AC3
Frames (bs) 81,759
Durata 00:43:36 (2616.288 s)
Chunk-aligned (bs) Sì
Bitrate (bs) 384 kbps CBR
Freq. campionamento (bs) 48000 Hz
Modo (bs) stereo

Traccia audio nr. 2

Codec ID A_AC3
Freq. campionamento 48000 Hz
Canali 6
Dimensione stream 125,578,752 bytes (119.76123 MiB)
Tipo di bitstream (bs) AC3
Frames (bs) 81,757
Durata 00:43:36 (2616.224 s)
Chunk-aligned (bs) Sì
Bitrate (bs) 384 kbps CBR
Freq. campionamento (bs) 48000 Hz
Modo (bs) 3 front, 2 rear, 1 LFE

Bitstream video

Tipo di bitstream MPEG-4 Part 10
User data x264 | core 155 r2901 7d0ff22 | H.264/MPEG-4 AVC codec
User data Copyleft 2003-2018 | http://www.videolan.org/x264.html | cabac=1
User data ref=4 | deblock=1:-3:-3 | analyse=0x3:0x113 | me=umh | subme=8
User data psy=1 | psy_rd=1.00:0.15 | mixed_ref=1 | me_range=24 | chroma_me=1
User data trellis=1 | 8x8dct=1 | cqm=0 | deadzone=21,11 | fast_pskip=1
User data chroma_qp_offset=-3 | threads=30 | lookahead_threads=5
User data sliced_threads=0 | nr=0 | decimate=1 | interlaced=0
User data bluray_compat=0 | constrained_intra=0 | bframes=3 | b_pyramid=2
User data b_adapt=1 | b_bias=0 | direct=3 | weightb=1 | open_gop=0 | weightp=2
User data keyint=240 | keyint_min=24 | scenecut=40 | intra_refresh=0
User data rc_lookahead=50 | rc=2pass | mbtree=1 | bitrate=9232 | ratetol=1.0
User data qcomp=0.60 | qpmin=0 | qpmax=69 | qpstep=4 | cplxblur=20.0
User data qblur=0.5 | ip_ratio=1.40 | aq=1:0.80
SPS id 0
Profile [email protected]
Num ref frames 4
Aspect ratio Square pixels
Chroma format YUV 4:2:0
PPS id 0 (SPS: 0)
Tipo di codifica entr... CABAC
Weighted prediction P slices - explicit weighted prediction
Weighted bipred idc B slices - implicit weighted prediction
8x8dct Sì
Totale frames 62,726
Drop/delay frames 0
Frames corrotti 0

P-slices 19726 ( 31.448 %) ######
B-slices 42179 ( 67.243 %) #############
I-slices 821 ( 1.309 %)
SP-slices 0 ( 0.000 %)
SI-slices 0 ( 0.000 %)

Analisi DRF

DRF nedio 16.728263
deviazione standard 3.059229
max DRF 28

DRF<2 0 ( 0.000 %)
DRF=2 1 ( 0.002 %)
DRF=3 15 ( 0.024 %)
DRF=4 6 ( 0.010 %)
DRF=5 301 ( 0.480 %)
DRF=6 100 ( 0.159 %)
DRF=7 45 ( 0.072 %)
DRF=8 138 ( 0.220 %)
DRF=9 559 ( 0.891 %)
DRF=10 1064 ( 1.696 %)
DRF=11 651 ( 1.038 %)
DRF=12 1114 ( 1.776 %)
DRF=13 2201 ( 3.509 %) #
DRF=14 3832 ( 6.109 %) #
DRF=15 8854 ( 14.115 %) ###
DRF=16 12684 ( 20.221 %) ####
DRF=17 9627 ( 15.348 %) ###
DRF=18 7059 ( 11.254 %) ##
DRF=19 4625 ( 7.373 %) #
DRF=20 3166 ( 5.047 %) #
DRF=21 2149 ( 3.426 %) #
DRF=22 1802 ( 2.873 %) #
DRF=23 1610 ( 2.567 %) #
DRF=24 578 ( 0.921 %)
DRF=25 332 ( 0.529 %)
DRF=26 156 ( 0.249 %)
DRF=27 56 ( 0.089 %)
DRF=28 1 ( 0.002 %)
DRF>28 0 ( 0.000 %)

P-slices DRF medio 16.005982
P-slices deviazione std. 2.959897
P-slices max DRF 28

B-slices DRF medio 17.116812
B-slices deviazione std. 3.018108
B-slices max DRF 27

I-slices DRF medio 14.120585
I-slices deviazione std. 3.07777
I-slices max DRF 26

Conformità al profilo

Profilo selezionato MTK PAL 6000
Risoluzione 1920 x 1080 > 720 x 576
Framerate 23.976024 <> 25
Buffer underflow 00:00:02 (frame 40)
Buffer underflow 00:00:02 (frame 48)
Buffer underflow 00:00:03 (frame 60)
Buffer underflow 00:00:04 (frame 103)
Buffer underflow 00:00:07 (frame 178)
Buffer underflow 00:00:17 (frame 397)
Buffer underflow 00:00:19 (frame 448)
Buffer underflow 00:00:21 (frame 498)
Buffer underflow 00:00:22 (frame 519)
Buffer underflow 00:00:24 (frame 579)
Buffer underflow 00:00:24 (frame 587)
Buffer underflow 00:00:25 (frame 595)
Buffer underflow 00:00:25 (frame 603)
Buffer underflow 00:00:26 (frame 612)
Buffer underflow 00:00:26 (frame 616)
Buffer underflow 00:00:26 (frame 628)
Buffer underflow 00:00:27 (frame 640)
Buffer underflow 00:00:27 (frame 652)
Buffer underflow 00:00:28 (frame 668)
Buffer underflow 00:00:28 (frame 678)
Errore Troppe violazioni

Edition entry

UID 12161425126391901242
Nascosto No
Selezionato di default No
Playlist No
Capitoli
00:00:00,000-00:03:29,876 00:00:00.000 {eng}
00:03:29,876-00:21:12,980 00:03:29.876 {eng}
00:21:12,980-00:34:15,178 00:21:12.980 {eng}
00:34:15,178-00:43:36,288 00:34:15.178 {eng}

Rapporto creato da AVInaptic (18-12-2011) in data 8-02-2019 09:57:47
[/spoiler]


Sharing Widget
Recently Added Torrents in TV
| torrent name | size | age |
| --- | --- | --- |
| | 388.9 MB | 23 seconds |
| | 408.9 MB | 23 seconds |
| | 11.9 GB | 23 seconds |
| | 1.5 GB | 23 seconds |
| | 415.6 MB | 5 minutes |